About Ueno Toshogu Peony Garden
Ueno Toshogu Peony Garden was opened in April 1980 to commemorate the friendship between Japan and China on the premises of Ueno Toshogu Shrine, where Tokugawa Ieyasu is enshrined.
Currently, 500 peonies of 110 varieties are cultivated in spring and 160 of 40 varieties are cultivated in winter.
Ueno is located in the center of Tokyo, but is full of greenery.
Winter Peony Festival
Kanto's largest class of 160 winter peonies of 40 varieties. The winter peonies here are protected by a "straw roof" to prevent them from freezing. In addition, you can also enjoy the wintersweet, Japanese witch-hazel, and Japanese apricot in the garden, creating a serene and elegant winter landscape.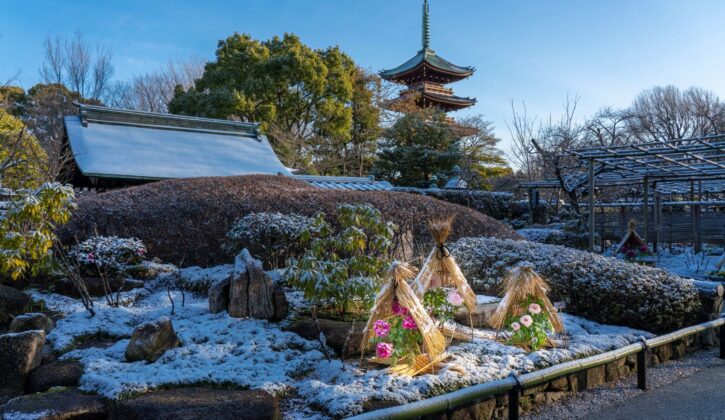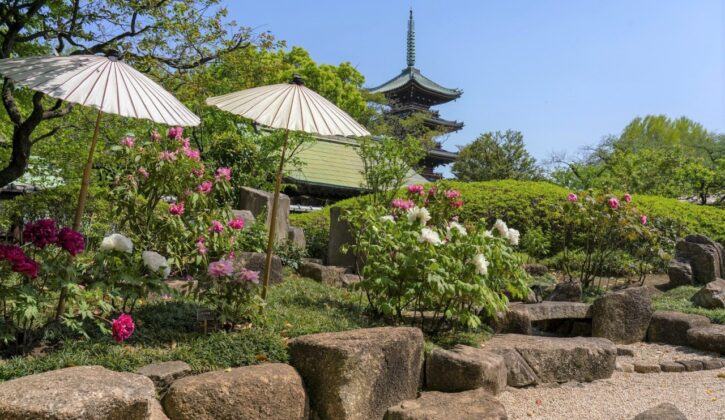 Spring Peony Festival
The garden has more than 110 varieties from China, the United States, and France, totaling over 500 peony plants. Among them, you can also find a very special "green peony". Besides the Peony, the garden features April-blooming Rhododendron bleeding heart, early May-blooming Rhododendron, and Common Garden Peony. Inside the garden, you can also enjoy the atmosphere of the Edo period while admiring the beautiful scenery of Five-storied Pagoda, lanterns, and Japanese umbrellas.
Special Festival - Autumn Dahlia Garden
Dahlias are originally from Mexico and were introduced to Japan during the Edo period. They are also known as "Tenjiku Botan" in Japanese. Since the opening of the Ueno Toshogu Peony Garden in 1980, the garden has been hosting two flower season events each year: the Spring Peony Festival and the Winter Peony Festival.
 Since its first edition in 2016, the Autumn Dahlia Garden, though evolving in form, has firmly taken root in this area, becoming an irreplaceable thematic garden space. If you can visit here in autumn, be sure to see 150 plants of the splendid dahlias under the shade of Japanese umbrellas.
Garden opening period: Late September to late October
Opening hours: 9:30 a.m. to 4:30 p.m. (last entry)
Admission fee:
-Adults 800 yen.
-Free for elementary school students and younger.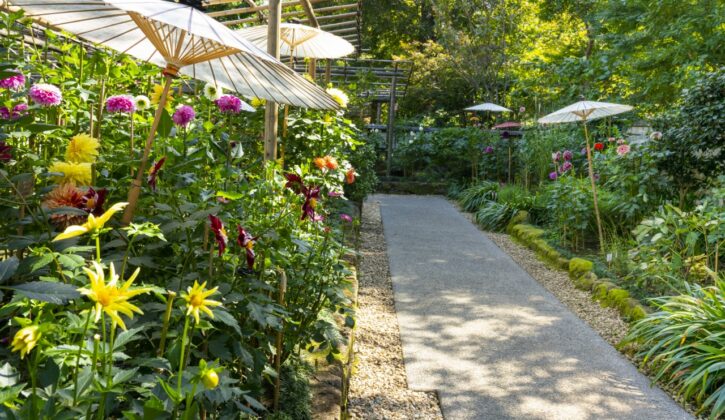 Contact Information
【Address】
9-88 Ueno Park, Taito-ku, Tokyo
110-0007 (next to Ueno Zoo)
【Tel-Phone】
03-3822-3575(Ueno Toshogu Botanen))
【Transportation Information】
・5 minutes walk from JR Ueno Station Park Exit
・10 minutes walk from Tokyo Metro Chiyoda Line Nezu Station
※There is no parking lot.
※Parking lots around the venue will be crowded, so we recommend using public transportation.